Today we organized a unique activity for the youth, we went to the sea to learn more about marine mammals
A true pedagogical tool, the sailing boat allows schools, leisure centers, specialized institutions and NGOs, to approach the Latin sail, while increasing awareness to the marine environment. It is aboard this magnificent 16th century Turkish caique that children participated in the sailors' maneuvers. Arnaud and François, the skippers introduced kids to sea-life ... and will make them discover the uniqueness of the PELAGOS Sanctuary.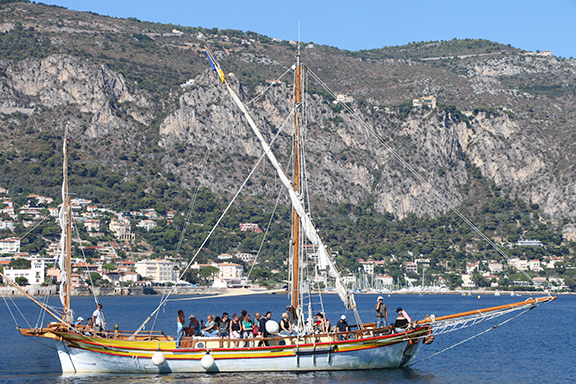 The shpir is the faithful replica of a Turkish caique, inspired by 16th century barbarian barbecues. Named "Tartane" in France and "Felouque" in the Red Sea, this typical Mediterranean boat of 23 meters long, is clearly distinguished from other sailboats by its Latin rigging and a wing of 200 m2. Formerly, it was used by pirates because very fast and maneuverable.
awareness of protection of cetaceans
Cetaceans (dolphins and whales) are present in large numbers off Nice shores within the Pelagos Sanctuary. Extending over an area of 87,500 km2, the Pelagos Sanctuary aims to protect marine mammals and their habitats from all causes of disturbance (pollution, noise pollution, accidental captures and injuries, disturbances, collisions, etc.).
Seven species of cetaceans regularly frequent the Sanctuary. It is estimated that between 1,000 and 3,000 fin whales, along with around 25,000 blue and white dolphins, frequent this perimeter in summer.
The sea trip with 3 hérissons was accompanied by an educational action (mini conference on board). At sea, kids learned to identify different species of cetaceans according to their morphology, their color, their speed of movement, their behavior within the group. Kid were taught their mode of feeding, reproduction, migration ... Finally, we introduced dangers that threaten them, and the means that are implemented to protect them.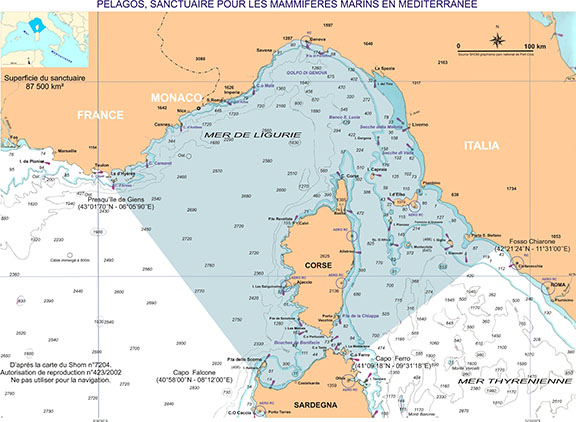 Outings at sea take place within the framework of the respect of the Code of Good Conduct for the observation of cetaceans. Very often, it is the marine mammals that come to meet us, there is never any pursuit or harassment of marine animals, and especially not "swimming with dolphins": we are fundamentally opposed to it.
Overall the outing went very well and had some seasick (adults on the other side